Date:
Thursday 26 February 2015
Protecting children is Commission's aim
Comment by Australian Human Rights Commission President, Professor Gillian Triggs.

The Forgotten Children – the report of the Australian Human Rights Commission's national inquiry into the impact of immigration detention on children – was released this month, three months after it was provided to the Government.
The report makes for disturbing reading. Anyone who has read it will be left with one question in mind: why has Australia maintained a policy that medical and other evidence has proven beyond doubt causes severe damage to children?
Since the report was provided to the Government last October, the Commission has been subject to the criticism that it is politically biased. Why, critics have asked, did I as president begin the inquiry in 2014 and not six months earlier in July 2013, when the numbers of children in detention reached a record high. Why, it has been asked, did I not act earlier?
The answer is that the Commission has worked tirelessly over many years reporting on the failure by both Labor and Liberal governments to comply with their international law obligations to refugees.
Racial Discrimination Act a 'crucial enabler', says Governor-General
Governor-General Sir Peter Cosgrove says the Racial Discrimination Act is "one of the most significant pieces of legislation affecting Australian civil society."
The Governor-General delivered the keynote address at the RDA@40 Conference in Sydney last week, hosted by Race Discrimination Commissioner Dr Tim Soutphommasane.
"There is no justification for excluding, limiting, singling out, vilifying people on the basis of their looks, their language, their culture or their beliefs, or discredited theories or stereotypical notions of race," the Governor-General said.
Commissioner Soutphommasane said the two day conference celebrated the 40th anniversary of the Racial Discrimination Act.
"The Racial Discrimination Act exists to protect all Australians against racial discrimination and vilification. Over the past 40 years, it has been used to resolve more than 6,000 complaints of discrimination," Dr Soutphommasane said.
Progressing freedom is fair and just

Human Rights Commissioner Tim Wilson last week delivered his National Press Club address, reflecting on his first year in office and outlining his agenda for the future.
Commissioner Wilson said the human consequences detailed in The Forgotten Children report should not come as a surprise to anyone.
"The long-term arbitrary detention of children is not in anyone's interest: theirs or ours," Commissioner Wilson said.
Close the Gap Campaign takes its message to Canberra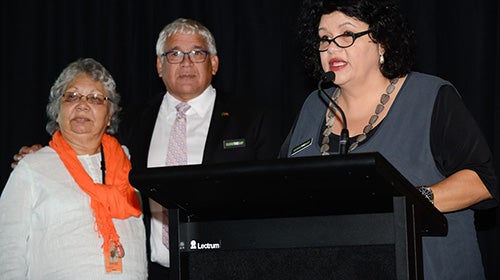 Almost 200 guests attended the Close the Gap Campaign's parliamentary breakfast in Canberra on 11 February 2015, hosted by Campaign co-chairs Kirstie Parker and Mick Gooda.
Prime Minister Tony Abbott addressed the event, as did Opposition Leader Bill Shorten and the leader of the Australian Greens, Christine Milne. Three outstanding Aboriginal young people – Danielle Dries, Alicia Englehardt, and Shaenice Allan – introduced the respective leaders.
The event marked the launch of the Campaign's 2015 Close the Gap Progress and Priorities Report, to coincide with the Prime Minister's annual report card to Parliament on progress made to reduce Indigenous disadvantage.
Ms Parker and Commissioner Gooda urged the Federal Government to focus on greater access to primary health care services to detect, treat and manage chronic health conditions in Aboriginal and Torres Strait Islander communities.
Pictured from left: Matilda House, Commissioner Mick Gooda and Campaign co-chair Kirstie Parker. Photo courtesy of Oxfam.
'Good practice, good business': employers invited to launch 
The Australian Human Rights Commission and Telstra are inviting business leaders to attend the launch of 'Good practice, good business'. The event will be hosted by Deborah Knight, Financial Review Sunday, and includes a panel discussion with special guests.
'Good practice, good business' is a suite of free online resources developed by the Australian Human Rights Commission to help employers promote diversity and prevent workplace discrimination.

When:            5pm, Wednesday 4 March 2015
Where:           Telstra Customer Insight Centre, Level 2, 400 George St, Sydney
To register visit https://goodpracticegoodbusiness.eventbrite.com.au
Older Australians at work
The Australian Human Rights Commission partnered with the Australian Human Resources Institute on 24 February to host a summit focussed on older Australians at work. John Daley from the Grattan Institute and demographer Bernard Salt from KPMG were keynote speakers.
In his address to the summit, Mr Daley called for a re-think on the age at which workers access pensions and superannuation,  saying an increase in the qualifying age for super or pension payments would encourage older people to stay employed for longer.
The summit discussed the barriers and opportunities for older employees in the workplace; ageism; recruitment; and the role of government in attracting and retaining older workers.
Participants also discussed the actions required of individuals, businesses, organisations and community leaders to help ensure Australia harnesses the economic and social benefits of retaining and recruiting older workers.
Recommendations will be included in a summit report, which will be widely distributed and promoted.
Face the Facts
The Commission has released its new and improved version of the popular Face the Facts series!
The resources provides accurate and easy to understand information on human rights issues and includes easy to use fact-sheets, with useful links and engaging infographics for each topic. Read more…
Rights Talks x 2
CPCF v Minister for Immigration and Border Protection – When statutory interpretation trumps international legal norms
In this session, Special Counsel at Shine Lawyers, George Newhouse (pictured), will discuss unanswered questions arising from the High Court Decision of CPCF v Minister of Immigration and Border Protection, a case which challenged the legality of holding 157 Tamil asylum seekers on a Customs vessel and taking them on a voyage to India.
Date: 3 March
Time: 12:30pm – 1:30pm
RightsTalk RSVP:  https://rightstalkcpcf.eventbrite.com.au

Rights in a Crowded Classroom
With the national curriculum once again in focus, it's timely to reflect on the place of human rights in education. Is it the role of schools to teach issues like race relations and disability rights? If so, how? And how can schools engage with human rights and diversity beyond the curriculum?
The Commission will also be launching its range of new schools education resources on disability, race relations and human rights for maths, geography, history and health/physical education at this event. The venue is wheelchair accessible. If you have any requirements that will assist in your full participation please contact events@humanrights.gov.au
Venue: Melbourne Monash University Law Chambers (MULC), 555 Lonsdale Street (Corner of Crombie Lane and Lonsdale Street), Melbourne VIC 3000
Date: Wednesday 11 March
Time: 5:15pm – 7:00pm
RSVP:  https://crowedclassroomvic.eventbrite.com.au
Work at the Commission
The Australian Human Rights Commission would like to offer a unique opportunity for an APS employee to work closely with the Age Discrimination Commissioner on significant age discrimination matters that affect older Australians. Applications close 2 March 2015.
---
Recent media releases
Recent speeches
Get involved - upcoming events
For the latest media releases, speeches, opinion pieces, go to the media centre on the Commission's website at: www.humanrights.gov.au/news and for events go to www.humanrights.gov.au/get-involved/events-list.